Ahhh, l'amore. Argomento di cui parlano tutti e su cui nessuno riesce mai a capire nulla. Beh, io una cosa grazie a Oscar l'ho capita: se è per amore posso peccare senza che nessuno fiati, e si sa, l'amore è versatile...
Who sins for love doesn't sin at all. This is what Wilde used to say. And love is something we can't really understand, so I just trust him... You can do anything you want if it's for this noble feeling.
è talmente versatile che si riversa anche su oggetti di consumo. Su anelli, per esempio. Oh, insomma, arrivo al dunque e vi presento il mio nuovo anello a pasticcino firmato Luna By Oldani, comprato online su
questo sito
. E' dolce (e anche abbastanza gustoso... Sarà che è quasi ora di cena ma mi fa venire l'acquolina in bocca!).
That's precisely why I bought this pastry ring Luna by Oldani... It's sweet and tasty enough: ok, it's dinner time, but it makes me so hungry!!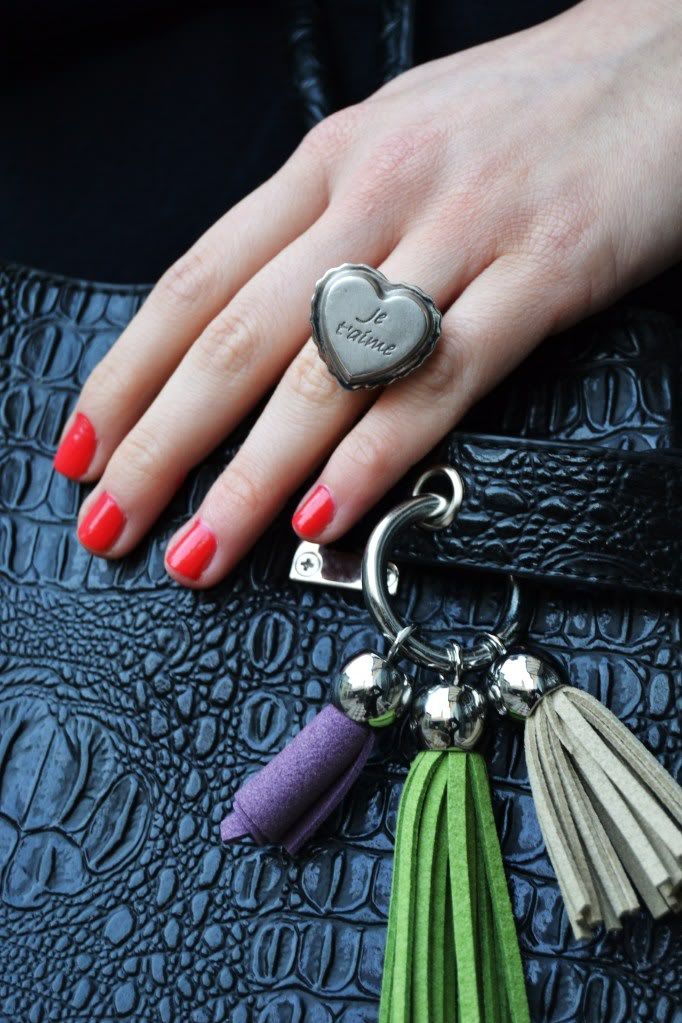 Non solo verso di lui provo senza dubbio un amore incondizionato ma ha pure scritto sopra "Je t'aime". Tutto un insieme di romanticherie, e quando il destino chiama non è buona educazione non rispondere. In più, presa dalla depressione post erasmus (ebbene sì, sono tornata milanese in via definitiva) avevo proprio bisogno di un regalo.
It's not just that I adore it, it's also that sentence, "Je t'aime"... It felt sooo right for me. Moreover I'm in post erasmus depression and I really needed a gift.
Ma passiamo dal regalo post erasmus al regalo post partenza da erasmus di Ottobre e che ancora non vi avevo mostrato, il mio cappottino by Urban Outfitters. Come vi avevo accennato l'anno scorso cercavo da tempo un Montgomery e questa originale versione navy mi ha fatto impazzire. Che ne pensate? La borsa era invece un regalo estivo di Pinko trovata nei saldi... Ma quanto sono generosa a parlare di tutti questi regali? Mi viene quasi voglia di averne un altro :)
Anyway, let's switch to another present, an old one, my blue coat by Urban Outfitters. I was desperately looking for a duffle coat since a long time ago and this original navy version made me crazy. What do you think? Speaking about my Pinko bag it was a summer gift found during sales... How generous am I, speaking about all these gifts? I feel like having some others :)
Una delle infinite cose che mi mancherà di Glasgow è TopShop. Le loro calze sono insuperabili.
One among the loads of things I'll miss of Glasgow is TopShop. Their tights are just the best.
La cena chiama, non vorrei addentare l'anello e rompermi un dente ;)
I've to go now, I wouldn't want to bite my ring and break my teeth ;)
Mari
Coat: Urban Ourfitters
Tights: TopShop
Shoes: Dolce e Gabbana
Bag: Pinko
Shirt: Aspesi
Shorts: Zara